"TIGER"
(OCT95 - MAR03)

BURWOOD POUND'S FAVOURITE BOY
TIGER'S PHOTO GALLERY
(Please click on the photo to enlarge)
Tiger .... this darling boy was the heart and soul of Burwood Pound and what a presence he was! Tiger was brought to the Pound's vet hospital after being seriously injured by a car and, although Tiger was only 18 months old, when told of the need for his front right leg to be amputated his owner decided the cost was too great and abandoned Tiger to his fate. Luckily he was in good hands as the kind vet staff knew they could not let Tiger die, and so the vet hospital became his home for the next 7 and a half years. Tiger became the symbol of Burwood Pound and his smiling face was photographed by every newspaper photographer and TV camera that came to do a story on them. Those of us lucky enough to know him, staff, volunteers and visitors alike, adored him for both his big heart and the ever wagging tail that seemed to shake his entire body. He was always mooching for forbidden treats and, although these had to be reduced as his waistline increased, Tiger would stop at nothing to weaken the firmest resolve! "Just one biscuit won't hurt" his eyes would say ...and his antics to persuade you never failed to cheer you up on a bad day.
In early March 2003, the vet staff were devastated to realise that Tiger had developed prostate cancer and nothing could be done to save him. For the time he had left, he spent his days eating ALL those treats previously forbidden and entertaining an endless stream of visitors as his close friends were informed of the sad news. This gentle, good hearted boy had stolen more hearts than anyone realised ...! He truly was a friend to all.
It's tough on volunteers and staff alike to go to the Pound each day, to the silence of an empty yard which only serves as a reminder of our loss. Tiger is always in our memories and forever in our hearts. We think of him and smile through our tears as we say -
"Goodbye Tiger ... we will never forget you"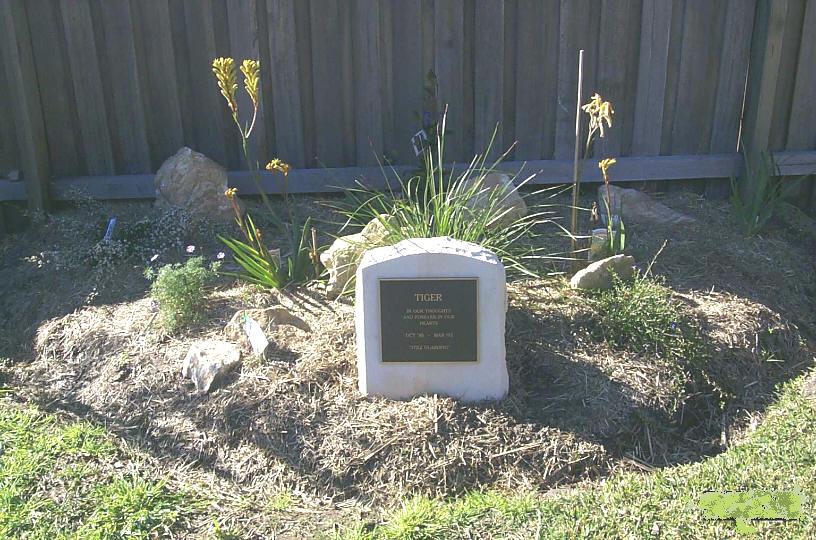 TIGER'S MEMORIAL GARDEN
Please click on the stone to see the inscription which reads:

TIGER
IN OUR THOUGHTS
AND FOREVER IN OUR
HEARTS
OCT95 - MAR 03
"STILL GUARDING"