ROSIE
(1986 - 2003)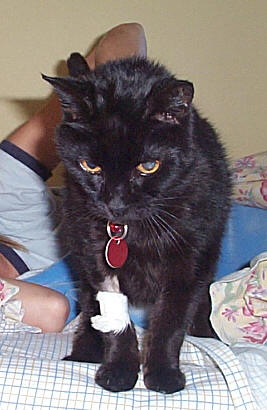 Rosie's mother was abandoned in a block of units in Parramatta. She was left at the unit by two nurses who moved out leaving her alone and almost due to give birth. Rosie's mother snuck into the unit next door and went under the owner's bed to give birth to 8 little kittens. The man only became aware of the new arrivals by hearing their little tiny meows coming from under his bed! By the time he found them Rosie's mother had cleaned them all up and there was no sign at all that she had just given birth to them as they were all lovely and clean. This man contacted me as our cat Benji had just been put to sleep due to cancer and we were ready for a new kitten or two. We took Rosie and her sister Fluffy home when they were old enough and also rehomed the rest of the kittens. The man in the unit had the mum desexed and kept her as his own. Rosie and Fluffy came to live with our family at about 6 weeks of age. My children were only little and just loved them both, dressing them up in their doll's clothes and wheeling them around in their prams for hours. Rosie had the sweetest nature of the two, she took whatever was dished up and didn't mind playing dress ups at all. My daughter Jaime loved her enormously and Rosie would spend hours and hours on her bed sleeping, with the sun streaming through the window. Rosie was a real celebrity in the neighbourhood as she used to follow everyone down the street demanding more and more pats as people walked past the house. When the school bus stopped out the front in the afternoon the school children used to wave to her and she would meow to them saying hello in her own way. Rosie and Fluffy spent many happy hours snoozing on the front veranda in the sun. Rosie loved her dinner very much and many people thought that she was pregnant so we were always being asked when the kittens were due! Rosie was healthy for most of her life but about two years ago she became very thin and we were worried that she may have had cancer. The Vet told us that she had a treatable thyroid condition so after spending one week in hospital having radioactive iodine treatment she came home and very soon she was her chubby self again which was a huge relief ... we had our girl back! Rosie became ill again in July 2002 and this time it was some teeth that had to be removed. Once again Rosie bounced back .....
After sharing our lives for 17 years Rosie passed away in May 2003.She had liver disease and there was nothing we could do for her. She was a beautiful, little black cat and it was a pleasure to have her in our lives.
Rest In Peace Rosie .... we loved you very much.
DENISE
(Background Music - "Tears in Heaven" by Eric Clapton)

MISSY
(DOB unknown - 28 June 2000)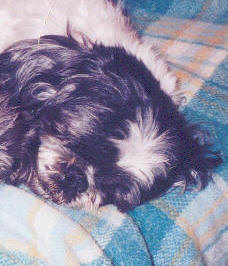 Missy came into my life in 1995 and she died 28th June 2000.
I was driving near my home one day around lunch time when I saw a little black and white dog on the road looking like she could be run over at any moment. I stopped my car in the middle of the road with the hazard lights on and tried to pick her up. She was a real mess, her coat was putrid and she smelt like a garbage bin full of maggots. She was very scared so I chased her off the road and into someone's front yard. She was barking at me the whole time and I couldn't see her face as it was covered in dirty, matted fur. I scooped her up in my arms and cuddled her and knew straight away that she was coming to live with me and my family. I walked up and down the street with her and asked some people in a house if they had seen her around the neighbourhood. A man told me that a car had stopped the other night and someone had thrown her out. Poor little girl, she had been in the street since then and it had been raining for days so she must have been so cold and so hungry. I bundled her into my lovely clean car (that didn't matter as I could always clean the car!) but I couldn't take her to my Vet as it was after 12pm and he was shut until 4pm. Instead I took her to another Vet who was not very kind to say the least. He told me I could do one of three things, take her home and do nothing to her as she legally was not my dog (he said I couldn't even clip off her coat to make her comfortable), I could leave her there and he would send her to the Pound or I could take her back to where I found her and maybe she would make her way back to her home. He then left the waiting room! The Vet nurse was very angry at what he said and felt sorry for the both of us. I was smelling as bad as the dog was by this stage and crying because of the response from that Vet. The Vet nurse whispered quietly to me that she would ring a groomer at Castle Hill in the industrial area and I could take her there to have her coat clipped off straight away as this woman was a friend of hers so off I went with my new little girl under my arm. I left her there for a couple of hours while her coat was clipped off. When I picked her up she looked so different! She was a scrawny bag of bones with big teats from feeding mounds of puppies so had probably been used for breeding. I took her straight to my Vet and he said "What have you got there?" We named her Missy straight away First of all my Vet took her temperature which was OK, then he heartworm tested her and of course it was Positive. He said that she was quite old but thought that she would be fine with the treatment. I reluctantly left her there for her heartworm treatment then went home and told the family all about it. My husband was away at the time so he didn't need to know about Missy until he came back! Missy spent about a week at the Vet having her treatment and then came home to live with her two doggy brothers Rolly and Jake, Rosie and Fluffy the cats, my three girls, myself and my husband ( who threatened to leave because he really didn't want another dog!)
Missy was a lovely dog who didn't really bother with other dogs, preferring people. She followed me everywhere but found stairs hard to manage as she seemed to have a long body and very short legs. Our house had a lot of stairs so it was hard for her. She worked out that if you just stood at the top or the bottom of the stairs and gave out little barks that some kind person would pick you up and carry you back to your basket. Just like our cat Rosie, Missy spent many hours on various beds in the house where the sun streamed through the window making her feel warm and safe. Missy was given a multitude of names ranging from Scibalicous to Maggie to Granny in her final years. She used to sleep on our bed at night and sometimes we would hear a thud which was poor Missy falling off onto the floor. It didn't worry her, we just picked her up and she was soon snoring her head off again.
Missy suffered terribly with eye infections and her eyes were full of scars caused by the hair growing right into them. Eventually she had to have one of her eyes removed as it continually ulcerated. Missy didn't seem to worry, she just carried on as before. In common with my youngest daughter Missy suffered with epilepsy and this gave them a special bond. The specialist said her seizures were caused by a heart problem where the valve didn't open and close properly. Fortunately she was able to take medication which helped the problem.
One day I noticed a lump on one of her mammary glands so I took her to the Vet who said it was a mammary tumour. Missy had surgery and was cut from under her collar down to her bottom. It was a big operation for her but she survived OK and looked like she had a zipper on her tummy. Missy spent a lot of time sleeping after that surgery and we knew that her time was short so we made sure that she was as comfortable as possible. She spent most of her life on our bed now and would bark to let us know it was toilet time. We would say "Granny's awake ... time for the toilet" and would take it in turns to take her outside and then put her back onto the bed. One day Missy stopped eating but my Vet had told me this would happen. She was put on a drip and given medication to try and stimulate her appetite but it didn't work and we knew Missy's time was near. One night she was in her basket near me while I was cooking dinner and she had a huge fit and just collapsed onto the floor. We rushed her to the Vet who weighed her and said she has lost 15% of her bodyweight. She was too sick to survive now the cancer had gotten into her other organs.
We put Missy to sleep there and then and brought her home. We wrapped her in my eldest daughters cot blanket that she used to lie on in her basket and buried her in our rose garden. Missy died on the same day as my good friend Linda who had breast cancer.
Rest In Peace Missy, we loved you very much, and although our time with you was not long, we enjoyed every moment that you gave us. Missy was not the most beautiful looking dog in the world but she had the most beautiful heart!

DENISE

(Background Music - "Tears in Heaven" by Eric Clapton)
BABY BOOF
( DOB unknown - June 2004)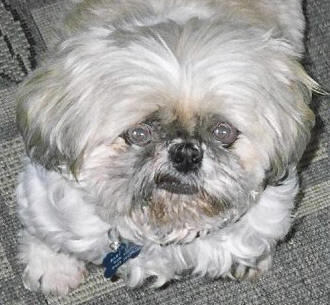 Baby Boof's life with my family started about three years ago. Baby Boof found himself in residence at Blacktown Pound and, as he had a microchip, he was impounded for two weeks. Baby Boof's microchip had no details listed on the Companion Animal Registry so when the two weeks were up he was released to rescue. Poor Baby Boof had a severe eye infection and when the local Vet could not do anything more for him he was sent to a specialist. He stayed in hospital for two weeks being carefully monitored and his eyes improved rapidly. Once he was given the all clear I took Baby Boof home as a foster dog.
Baby Boof settled in immediately but he was not a great fan of the other dogs ... Big Boof, Jinx, Rolly, Jake or the two old cats ... so didn't play with them. He much preferred to be in his basket with his favourite teddies of which he had three. Baby Boof used to suck his teddy and make funny little noises while doing this, just like a baby with a dummy. Baby Boof was also an extremely good eater, letting us know when it was dinner time by going up to his food bowl and barking loudly until something nice was in there to eat. He was a tiny little fellow so keeping him slim was not an easy task ... food was really one of the most important things in his life! Baby Boof was absolutely adored by all of his humans. He would get so excited when you arrived home that he would do a little dance and bark so loudly that his front paws lifted off the ground. He also talked to us by making funny little growly noises when we cuddled him and said "Where's the baby? He was our little baby boy
Baby Boof had a beautiful tail which looked as though it had been crimped. Maureen his groomer loved Baby Boof and when he went to her house for grooming she would laugh and laugh at his antics. He would keep all of her dogs entertained when he made passionate love to his t,eddy with the other dogs watching on in amazement. I'm sure his brothers were a little embarrassed at his behaviour but understood that Baby Boof was a special boy and could do anything he liked. Baby Boof did not ride in the back of the car with his brothers, preferring to sit on the front seat getting encouraging pats from me as we drove along. Baby Boof loved to go walking but at his own pace and really preferred to be taken alone as that way he could just plod along sniffing and peeing at will. As I said keeping him slim and fit was not easy! Baby Boof was often referred to as chubby and could not keep up with the bigger, fitter boys so we would take him on his own and laugh as he walked along beside us, looking up at us out of the corner of his eye as if to say "I'm really enjoying this walk"
As you can tell Baby Boof did not go to another home ... he stayed with our family. Although we did have an enquiry for him that could have proved interesting as the lady in question had a collection of teddies and Baby Boof would have been in 7th heaven there! My husband Rod got a bit nervous when this lady really wanted to adopt Baby Boof and said "If you promise not to bring anymore dogs home you can keep him" No sooner said than done! Baby Boof was ours to keep and we hoped that this would be for a long, long time. We didn't really know how old he was, only that he was no spring chicken.
At the end of April my husband and I went away for about six weeks leaving two of oour daughters to look after the boys. One of our daughters was nursing Baby Boof about a week before we were due to come home and noticed a lump on his neck. He was taken to the Vet the next morning and, after an X-ray, blood tests and a fine needle aspirant into the lump Baby Boof was diagnosed with Lymphoma. The girls were devastated but did not want to tell us until we got home. When they told us we were in shock as it was unbelievable to think that this little boy of ours would probably not survive longer than eight weeks from diagnosis. We were told that chemotherapy was an option but, after speaking to several Vets, we were advised against it and as it turned out nothing could save him. Within the space of a week he had seven huge lumps on his little body and could scarcely walk. On our Vets advice we put him on some medication to ease his symptoms and to try and keep him comfortable for as long as we could without him suffering. Sadly for our family Baby Boof became so ill that two days after we arrived home he collapsed. My husband came home to be with him and when the Vet arrived to put him to sleep we wrapped him in a blanket and he went peacefully. I am glad that I could nurse him after he was gone as to even pick him up at the end of his life was too painful for him. Our family will never forget this very special little boy .., we never wanted to lose him and can't believe that he has gone but he has and things will never be the same ...........
Rest In Peace Baby Boof ... we loved you to bits and you knew that we did. The Vet and all our friends said that you waited for your whole family to be together before you left us. We all thank you for letting us share your life for three years and if wishes could come true we would have you back in a heartbeat. We have hung a little butterfly in memory of you just outside the glass door and can see it spinning around in the sunlight. Your favourite teddy has pride of place on the dresser ............. the only thing missing is you.
DENISE
(Background Music - "Tears in Heaven" by Eric Clapton)
BOOF
( DOB unknown - 23 November 2008)

Boof was impounded at Renbury Farm in the suburb of Austral about 11 years ago. I was working alongside Monika from Doggie Rescue at the time helping to rescue and rehome dogs from Renbury Farm and other Pounds around the Sydney metropolitan area. Boof was only about 6 months old we think and had already been adopted once from the Pound but found himself back there for a reason unknown to either Monika or myself. Boof was a naughty dog when he was with Monika, he refused to stay in the dog area preferring to jump the baby gate and sit up like Jackie on the dining room table. Monika was not happy about this so I took Boof home to foster until he found a new home. I have three daughters and Boof took a fancy to the middle one's bed. He still had his desexing stitches in when he came to stay with us and refused point blank to go to go and wee or pooh outside. He would run straight back into the house and hide under our middle daughter's pillow, just peeping his head out. Boof's stitches were obviously bothering him a lot and when they came out he was feeling much better and began to explore the house and yard a little more. When Boof came to live with us we had a Shih Tzu named Missy and two Shih Tzu X named Jake and Rolly. Boof soon settled in and became a firm favourite in the house. He was a very pretty dog with a gorgeous coat and people would stop and look at him when we went on walks. The girls and I decided to keep Boof even though their father was opposed to belonging to four dogs and thought three was bad enough. Surprise, surprise for him! The girls and I put Boof in a big box with a bone, tied the box up with ribbon and presented the parcel to him on his birthday. Boof burst out of the box wagging his tail and of course his new Dad was very happy to welcome him into our home for good. During the time we had Boof we adopted Jinx another Shih Tzu and Baby Boof a little Shih Tzu. Baby Boof died from the same condition that took our beautiful big Boof to Rainbow Bridge as well and you can read his story above.
Boof trained to become a therapy dog not long after we adopted him and regularly visited nursing homes with me. He was very popular because he had a very endearing personality and was a pretty boy with the waggiest tail you have ever seen. The elderly residents of the nursing homes that we visited were always very excited on the days Boof came and he wolfed down all the biscuits from morning tea they saved to feed him. Boof visited the nursing homes for about 5 years but as I became busier and busier with my rescue work, Boof and I stopped our visits to the nursing homes. Boof used to come home and sleep for hours after these visits as it took a lot out of him but he did love to go.Boof was my constant companion in the car as I went to the Pounds to pick up dogs then take them to the Vet for all of their surgery etc. Boof would come with me again carer's home when the rescue dogs were ready to go into foster care. Everyone knew and loved Boof and some carers were disappointed if I didn't have him with me when I dropped off their rescue foster dog. Boof was very good at testing fencing as, whenever we were doing a home inspection at a prospective new owners house, he could smell a fence with a gap a mile off. Boof could also tell very quickly who in the family was not that keen on adopting one of my rescue dogs and would make himself very comfortable on their laps. It was very funny to watch!

Boof especially loved coming to our house on Lake Macquarie and would run along the jetty chasing the sea birds and occasionally jumping into someone's boat. I thought I had lost him one New Years Day and was in a panic but we heard barking coming from a boat and there was Boof. He had jumped off the jetty onto the boat but was too low down and couldn't get back out again. Thankfully he barked when he heard me calling his name and I ran and got him out. To lose Boof would have been dreadful as I loved him so much.
Boof and I had a wonderful life together and I did not ever think that it would end as he was a happy healthy dog. Sadly in March 2008 my husband was rubbing Boof under the neck and found two lumps. He didn't say anything to me until the next morning because he was worried as Baby Boof had the same symptoms and had lymphoma, living only a matter of days after the diagnosis. I knew once I felt the lumps the next morning that Boof was in serious trouble and took him to my Vet immediately. Boof went through a barrage of tests, biopsies etc. and it was confirmed that he had Lymphoma so he started chemotherapy immediately at Animal Tracks Vet Clinic. Boof was always with me when I went to Animal Tracks as they do all of my rescue dog's surgeries and I was lucky as they worked together with an Oncologist who did Boof's protocol for his chemotherapy treatments. Boof was not affected greatly by his treatment ... he got really sick once and spent the night at the specialist centre with a tummy bug but was given the appropriate treatment and bounced back very quickly. Boof never complained during his chemotherapy and when I picked him up from the Vet after his treatments his tail was always wagging and he would bark and bark at me to get him out of the cage. I would carry him from the clinic to the car and he would happily sit on his own seat in the front with me. Boof was not allowed to eat any raw meat during his chemo and didn't appreciate not being able to have chicken necks as he loved them. We caught Boof's lymphoma in stage 1-2 and were hoping that he would go into remission quickly and stay in remission for a long time. He did have a good reaction to treatment and his lumps disappeared in a day or two so we were thrilled. He was on the first protocol for about five months and then we had to watch and wait but sadly he came out of remission after only three weeks. We were devastated but his Oncologist put him onto a new protocol which put him back into remission again but this time it lasted only about six weeks and the cancer was back. We tried Boof on a 3rd Protocol without any success. Everything was done to try and keep Boof going but his lymphoma was very aggressive. I woke up on Sunday 23 November 2008 to the sound of rain. Boof was barely breathing and I knew that today was his last day on earth with me. Boof was put to sleep at 2.30pm that day ....My Boof has gone from the house and the couch that he loved but his memory will stay with me forever. Boof was the most wonderful dog and I miss him dreadfully.
DENISE
"Tears in Heaven" by Eric Clapton (Background Music - Internet Explorer Only)