MOLLY

(12 March 2001 - 27 February 2013)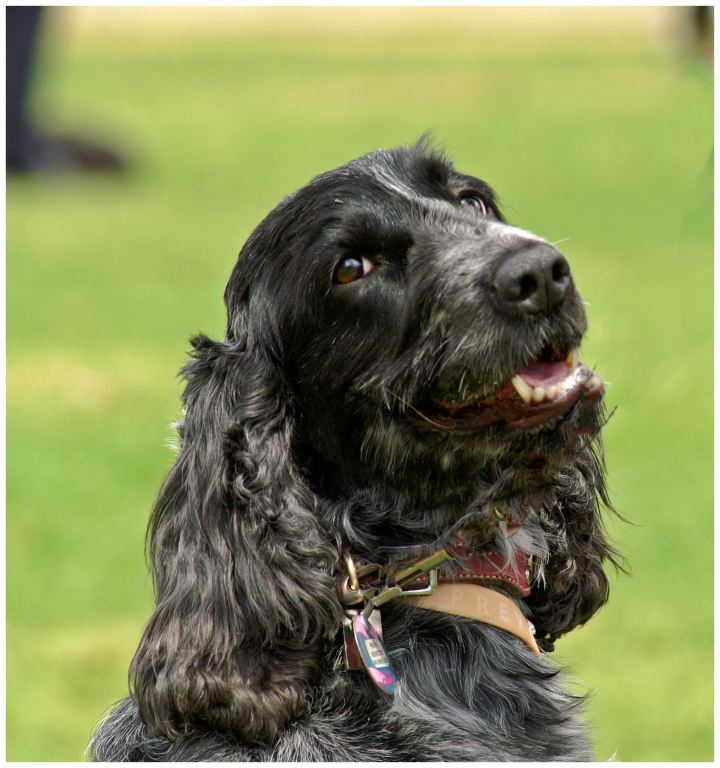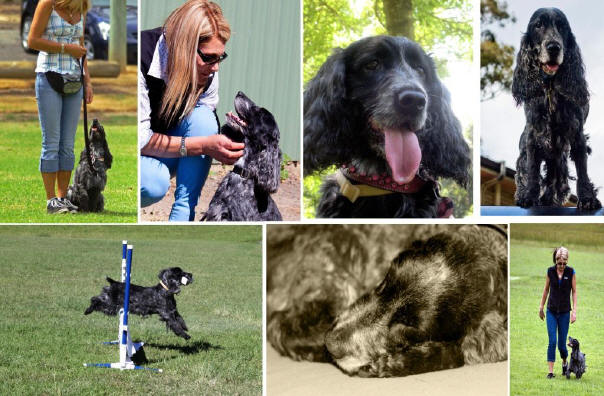 Molly came into my life just under 12 years ago and it is a day I remember with complete clarity. This was long before I had heard of PAWS or adopting a rescue dog, so after a long decision making process and waiting for the right time, off I went to a highly recommended English Cocker Spaniel breeder to view her litter of available puppies. Of course all the puppies were just gorgeous but I narrowed it down to a choice between two of the available girls and decided on Molly's sister, (close your ears Molly) as she was the prettier of the two puppies and almost as outgoing as her sister. My selection made, the breeder began to prepare the necessary paperwork, but as we chatted the little girl that I had not chosen would not leave my side, she wiggled, nudged, licked, chewed and did whatever she could to hold my attention even when the other puppies had gone back to playing amongst themselves. And then it happened, there was a moment when I looked at her and I just knew - I had been chosen! I will always remember the breeder's response when I told her of my change of heart. She laughed and said "You will have your hands full with that one!" And I did ... but in the best way possible.

Molly joined our family to be a 'family dog' however it was clear right from the start that there was a very special bond between her and I and she was 'my girl'. Molly was fine with the rest of the family but only truly happy when she was with me and if she could have me to all to herself then that was even better. Molly very quickly became my shadow, she jogged with me, did the school run, gardened, supervised me cooking; a task she took very seriously as she loved food probably as much as she loved me! Some people may not have considered Molly 'a good dog'; she was a shocking food thief her entire life, she was demanding, she could not be relied upon to come back when called if there were birds to be chased, she was bossy, she preferred not to share me if possible and if you wanted her off the couch you would have to ask at least ten times! But I loved Molly, not in spite of these traits, but because of them as they were part of what made her the character she was and to me she was the best dog in the world. Molly was a true character, one of those rare creatures that once met one does not forget. She was full of personality, cheek and self-importance, she greeted every new day full of joy with a 'what are we doing today Mum?' attitude and always lived life full on. If dogs can smile and laugh (and I believe they can) then Molly laughed and smiled often, she was a beautiful, happy soul with a tail that never stopped wagging.

I have so much to thank Molly for, she enriched my life in many ways. It was my relationship with her that eventually led to my interest in rescue dogs and my work with PAWS. Molly took fostering pretty much in her stride, she chose to ignore all new foster dogs for 24 hours and then she seemed to know just what each dog needed, some she would leave to themselves, some she would help gain confidence by showing them that people and the world were just wonderful, others she would teach a lesson in doggy manners, but on the whole she just accepted and tolerated these newcomers and allowed them to share her home and my attention for the time that they needed it. Naturally we adopted one of our foster dogs and he and Molly spent many happy years together. It was also Molly who inspired me to become involved in our local dog training club where I am now an instructor. She and I made many wonderful friends, enjoyed years of fun and sometimes challenging training days. We entered the world of competition obedience and it was only last year, at 11 years of age, that Molly gained her Rally Novice Title.

Molly lived a good and full life; she was fortunate enough to remain healthy, youthful and puppy like for the better part of her years. It was only mid last year that I noticed she was slowing down a little and given her age and no outward signs of illness her vets and I thought it was just that she had finally accepted her age and grown up somewhat, sadly that was not all that it was. In January Molly had repeated attacks of acute pancreatitis and was hospitalised several times over the following weeks. Molly never really recovered her strength and health after that. We were blessed with some good days but sadly there were more painful days for her than good and she continued to decline. When it got to the point that Molly was no longer even enjoying her food I knew in my heart that something was really wrong. Ultrasounds were done and these showed some changes in her liver, stomach, pancreas and spleen. In order to get a proper diagnosis it was necessary for biopsies to be taken but tragically we could not wait for the results. Molly rapidly worsened, getting weaker, becoming more depressed and then when her chest began to fill with fluid I knew it was time to make the heartbreaking decision to ease her suffering and let her go. After nearly 12 years of unconditional love the only thing I could give her in the end was relief. The biopsy results came through a few days later and I now know that she had an aggressive form of cancer.

Molly's passing has left a huge hole in my heart and life; she was my constant companion, best friend, confidante and teacher. I am better for having had Molly in my life, she challenged me, inspired me, loved unconditionally and brought a smile to me every single day, I was so lucky. I miss Molly dreadfully; she will always be 'my girl', a rare soul I will never forget .....
Samantha
I cannot do what some might do And push it from my mind
I cannot forget, if I wanted to
Four feet trotting behind.
Day after day, the whole day through
Wherever my road inclined
Four feet said, "I'm coming with you"
And trotted along behind.
Though now we go by separate roads
I know I'll never find
A place that does not carry the sound
Of four feet trotting behind.

( Poem by Rudyard Kipling)