RECENTLY REHOMED OR WITHDRAWN PETS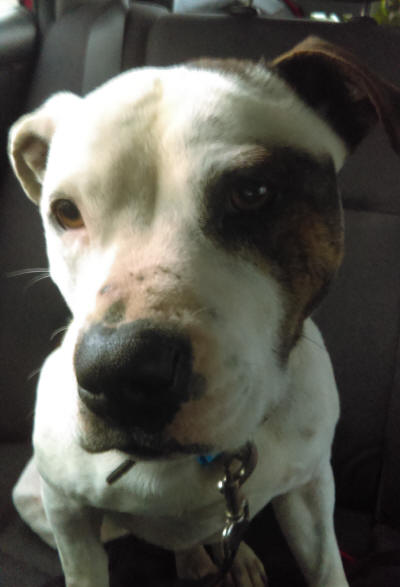 TILLY

Female Staffy X Foxy
Aged approx. 3 years
Medium size

Tilly was being fostered by a Paws and Recover carer until her owner could take her back but sadly this is no longer possible so she is now looking for a new home. Tilly suffers from separation anxiety but is currently on medication and is seeing a trainer to help establish her place in the pack as this will make her feel more settled. She appears to be friendly with other dogs and seems to enjoy their company but does play quite roughly with them. Tilly needs secure, high fencing and is NOT suited to a home with cats as she cannot be trusted around them so needs to be walked on a lead at all times. Tilly loves her toys and is great with kids but can be a bit rough with humans if you want to wrestle with her! She is house trained if able to get access to outside and can hold on overnight if you don't sleep in too late to her her out. Tilly eats rice, pasta or kibble mixed in with whatever meat her carer has in the fridge or or a can of Nature's Gift. She currently sleeps on her carer's bed but is being encouraged to sleep in her own bed in case that is what her new owner prefers. Tilly enjoys car rides and will join you in the driver's seat if given the chance so would need to be restrained during the trip. She is a loving girl that just really needs to be with someone who is home a lot or who has another high energy doggy playmate for her.
UPDATE 5 SEPTEMBER: Click HERE to view a video showing how well Tilly is doing with her training!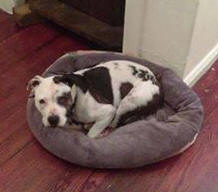 Listed 12 July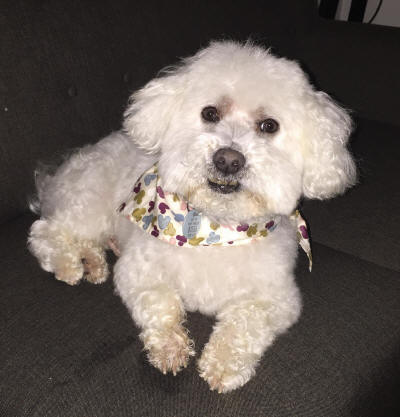 JIMMY

Male Maltese

Aged approx. 13 years

Toy size


Jimmy is looking for a new home as an unexpected change in his dad's working arrangements means he now has to travel from Monday to Friday and is only home at weekends so Jimmy is very stressed and unhappy. He really needs to live with someone who is home most of the time so a retired person or couple would be ideal. Jimmy is

a great little companion that loves attention and company and gets on well with children and other dogs he can play with, although he has not had much contact with cats. Jimmy loves his walks and gets very excited when he sees his leash and knows he is heading out on an adventure but also loves car rides, especially when they end at a big park or on the beach! In summer he will run around the beach then go straight to the water's edge and sit himself in the water. He is not afraid of a bath and, once it's over, loves being dried with a towel or hair dryer then racing around just so happy to be clean again. Jimmy is a very loving boy that enjoys curling up on the couch next to you just chilling out then heading off at night, either to sleep on your bed (if allowed) or on a little dog bed in your bedroom as he just wants to be near his human. Jimmy is house trained and will go outside to toilet if he has access to outdoors. He loves chicken for dinner (either wings or necks) and tuna as a treat but is very fussy with dog biscuits and prefers those made by Black Hawk. Jimmy has a coat that will grow and require regular grooming to keep him comfortable and looking his best. His dad is very sad about having to find Jimmy a new home but because he loves him very much he knows it is best for his emotional wellbeing and happiness.

Listed 7 July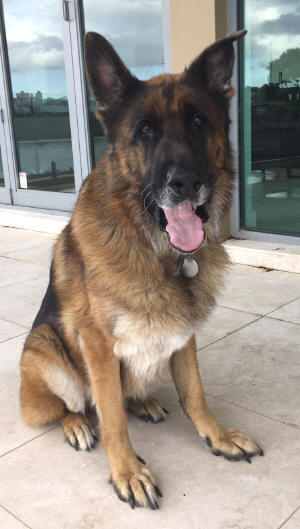 TROY
Male Purebred German Shepherd
Aged approx. 7 years
Large size
Troy is a great family member who is looking for a new home as his dad now regularly has to travel overseas for work. He is professionally obedience trained (sit, down, stay, come, 'what is it' etc), walks well on lead (responding to heel and 'on the left') and will wait until he is told to eat. Troy is also both house trained and crate trained and will sit on his mat watching TV with the family and then ask to go outside to toilet when required. He is very friendly with people, loves scratches and being with his family. Troy can play a little rough with smaller dogs although his boarding kennel reports that he does calm down after the initial excitement of meeting them is over. Troy will go to his new home with his crate, leads and kennel and his family will be very sorry to see him go but know it is for the best. The German Shepherd breed is an active one so Troy is best suited to a family that can give him the regular exercise and stimulation he needs to keep him happy.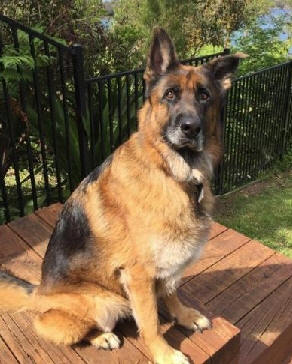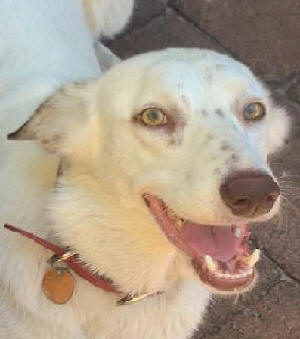 ELLIE

Female Border Collie X Kelpie
Aged approx. 2 years
Medium size

Ellie is a loving and active dog that is looking for a new home with a family that can give her the exercise and stimulation that working dog breeds need. Ellie is affectionate and willing to please, responds to commands quickly and has excellent recall so may also be suitable as an agility dog. She loves company and presently lives with an older Labrador so would also appreciate a dog of similar size and activity level in her new home. Ellie is fully house trained and is an indoor dog who needs to be allowed inside when the family are at home. She is currently fed on dry food (kibble) and is not a fussy eater. Ellie has never lived with children or cats but this very active girl may not be suited to a family with young children. Ellie has an easy care coat that just needs a regular bath and a brush to keep her looking good.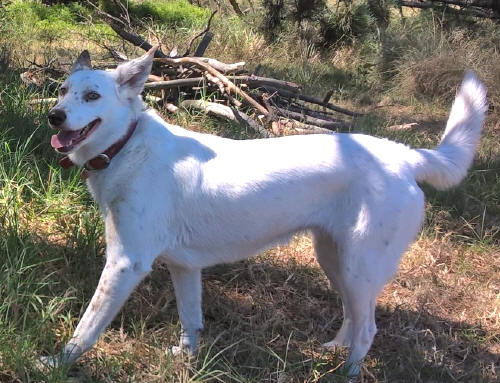 Listed 18 January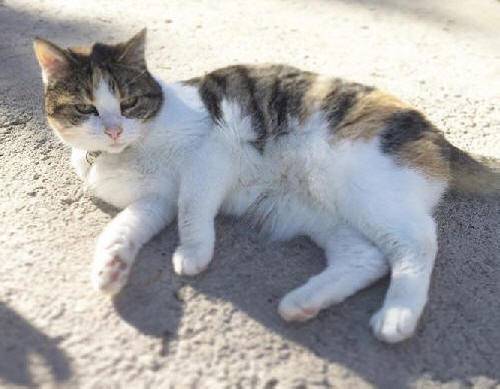 PUREE
Female Tortoiseshell and White DSH Cat
Aged approx. 9 years
Short Hair

Puree is looking for a new home as her family are moving overseas and don't want to subject her to the long flight. She is in temporary care living in a small apartment with two elderly little dogs but would love a home with a a yard as one of her favourite things is explore outside (although she never ventures far) or to find a quiet spot and lay in the sun. Puree is a very easy going cat and everyone that meets her falls in love with her because of her gentle and loving nature. She gets along well with dogs but has never lived with cats as she has always been the only cat in the household. Puree is extremely good with children and has never shown any aggression towards them so is an ideal family cat.

Listed 12 July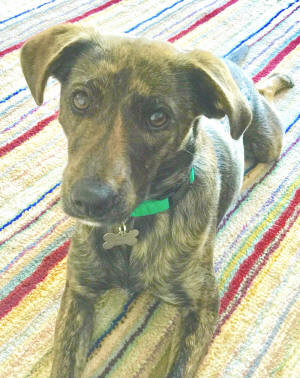 Female Staffy X Kelpie (?)
Aged approx. 14 months
Medium size


Milly is a very loving and beautiful girl that was adopted about 6 months ago and her family immediately fell in love with her! She was initially pretty shy (didn't much like men) but since then she has really come into her own and is now a confident, friendly and intelligent dog. Milly loves the dog beach and is very sociable (both with people and other dogs) and mostly loves to hang out with her person. Milly's family feel quite rightly that part of owning a dog is doing the right thing by them and unfortunately Milly is not as happy as she could be with them. There are two young children (5 years and 18 months) and life is so busy that Milly isn't getting what she needs which, according to her vet, is someone who is 'her person'. Whilst MiIly enjoys playing with the older child who is able to handle her 'mouthing' and energetic nature she is not suited to a home with very young children. Milly is quite good with the toddler but when she has had enough of their attention she does give a warning growl. This makes it hard for the family as they cannot leave her with the toddler and they don't want Milly to be left alone outside with no company either. Milly loves kids but would prefer a home with either no children or quieter, older ones at least 5 years or older. Milly is fantastic with other dogs and hasn't met one she's disliked yet so her ideal family would be one with another dog that she could both bond with and act like a 'goofball' around. However Milly is not great with other small animals so should not go to a home with rabbits, guinea pigs or birds! Milly's one big downside is that she has moderate separation anxiety so could dig a hole or destroy small items left in the yard if she's feeling anxious. She will not be happy being left home all day on her own but as she has become more confident the behaviour issue has faded although it is still there. If you take Milly on you're going to need to be prepared to deal with this issue and continue with the attention and training she needs to overcome it. She would enjoy a daily walk but is very laid back so most of the day just lounges around either next to or on you if possible. Milly is fully house trained, sleeps happily in a crate at night from around 10pm to 7am (but would love to be allowed on the bed), can sit and shake hands and comes when called (even when off lead at the dog beach). In short, Milly's ideal home would be with a family who has another dog to keep her company, one with older kids and at least one home based worker or retiree who needs a companion.

Listed 29 November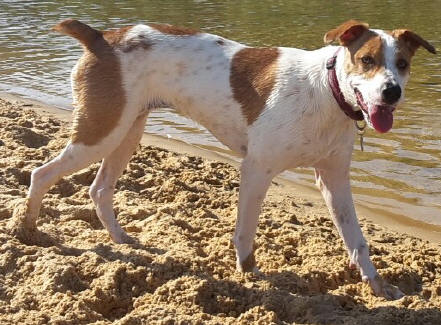 ASTI

Female Stumpy Tail Australian Cattle Dog x Bull Arab
Aged approx. 9 months
Medium to Large size (when fully grown)
Asti is looking for a new home as she suffers from motion sickness and so cannot travel in the car for outings at the dog park or to play with other dogs. She can only be walked around the neighbourhood on lead as she has a massive fear of the car due to the symptoms of her motion sickness. Her family both work during the day so she is at home alone and can't go to doggy day care or have other people come and fetch her to take her out to socialise and play with other dogs (which she loves!). They feel it would be best for Asti to go to a family that could give her more than they can in this respect. Her family love Asti very much and have tried absolutely everything (including the opinion of a dog psychologist and a dog trainer) but motion sickness in dogs is a medical condition with no cure and it is not fair to force her to go in the car for a 'fun trip' as it is not fun at all for her to go in the car.
Ideal Home: Asti loves other dogs so a doggy companion would be ideal so that she can play at home without having to go in the car. Asti would be a great companion for someone that is home during the day and/or lives within walking distance of a dog park. Given her breed, a large garden or a home in a rural area where she has room to run around would be good too.
Likes: Asti loves the company of dogs, cats and children and also games, her squeaky toys and learning new tricks. She also loves cuddling, going for walks and exploring. Like any puppy, Asti loves to play.
Dislikes: Asti is fearful of going in the car and will not be suited to anyone who will take her out for a drive. She also dislikes stern commands as she is a sensitive soul.
What she eats: Asti currently eats Royal Canin pellets and likes Eukanuba, chicken necks and is sometimes is spoilt with bones from the butchery!
Where she sleeps: Asti is fully house trained and currently sleeps indoors and downstairs in her bed
In summary, Asti is a gentle, affectionate girl with good manners and calm and content with life. She loves the company of people and other animals and will always stay close to you. She is initially a bit shy but warms up to people very quickly. A very intelligent girl who is obedient and likes to please, Asti is an absolute pleasure to have around and her gentle nature will ensure a family falls in love with her very fast!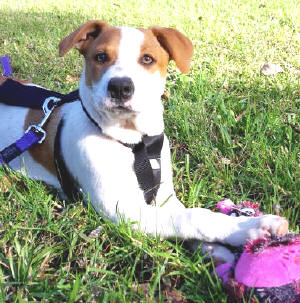 WITHDRAWN FROM ADOPTION
Listed 30 August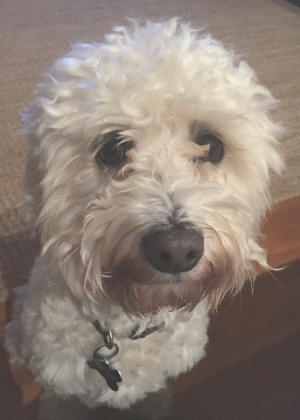 BISCUIT
Female Maltese X Poodle
Aged approx. 12 months (born 23 Nov 2015)
Small size
Biscuit is a gorgeous girl that is sadly looking for a new family as the new landlord will no longer allow pets in the home. Biscuit is quite active and excitable so would need to be walked regularly. She is quite spoilt so is fed kibble mixed with chicken breast and brown rice. Biscuit is an indoor dog that is house trained and an obedient girl but she does have some separation anxiety so would like a home where there is someone with her most of the day and not leave her alone for long periods.

WITHDRAWN FROM ADOPTION

Listed 18 November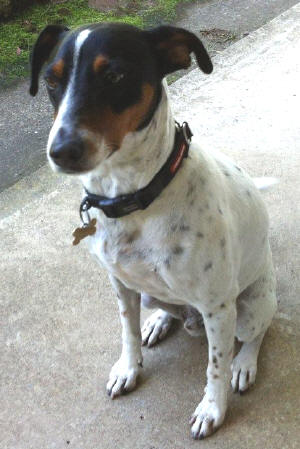 Male Jack Russell Terrier X Blue Cattle Dog (?)
Aged approx. 8 years
Medium size
Bluey is looking for a new family to love as his owner is moving into a retirement village. He loves people and other dogs but not cats and does chase the skinks in the backyard! He sleeps in a crate and likes to go there during storms as it's where he feels safe. His mum reports he is house trained and responds to basic obedience commands. He is currently fed kibble and is often given human food as a treat. Bluey is happy to spend the day outside when alone and then come inside to spend time with his human and to sleep.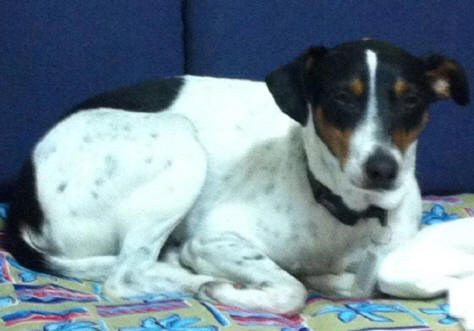 Listed 12 November
Male Purebred Dachshund (Mini?)
Aged approx. 7 years
Toy size
Pip is an incredibly sweet, kind hearted boy that is a little bit disoriented at the moment as he is missing his elderly owner who has recently passed away. Pip (also known as Pippin) has a beautiful temperament and will happily chill out with you on the couch for hours. He doesn't fetch or play with toys, just loves sitting on laps, looking out windows or having a sniff or run around at the park. Pip doesn't seem to like walking on the grass a lot though (probably because it tickles his belly!). At present the only thing Pip will eat in his temporary home with family members is chicken, although they have tried a selection of biscuits and human food. Pip sleeps either on a blanket on the floor if alone in a room or up on the bed. He's great with dogs and cats and all the kids he's passed in the street haven't bothered him in the slightest. Pip is house trained but may need time in his new home to become used to his new surroundings. He does have a small lump on his chest but this has been investigated and the vet believes it is just fluid. Pippin is just a lovely boy that deserves the best possible home!

Listed 7 Nov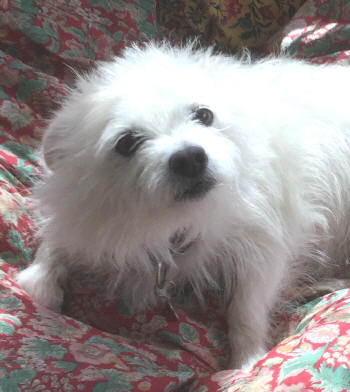 Female Maltese X
Aged approx. 8 years
Small size
Tammy is sadly looking for a new home as her 94 year old mum is going into a nursing home. Tammy may have been mistreated early in life as she is very wary of strangers and will simply hide away from them if she can however, once she gets to know someone, she is very friendly and extremely animated around them. Although Tammy is quite willing to be brought up to children for their attention she won't generally accept being caught and held. Tammy doesn't generally encounter other dogs but will shy away from contact when she does and, although she shared a house with a kitten many years ago, she hasn't encountered any cats since then so her current reaction to felines is unknown. Tammy would still probably be good when walking on a lead (although her owner is now to old to manage this) as she previously became quite excited at the prospect and will also come when called. She becomes very wary at the prospect of a bath or flea treatment application or similar attention but, if held firmly, she will accept whatever you want to do without showing any aggression. Tammy is a house dog that is house trained using a doggy door and will go outside when asked. She is currently fed on canned dog food and is fond of chicken wings but can tend to leave her food since there is no other dog there to come and steal it!

Listed 16 October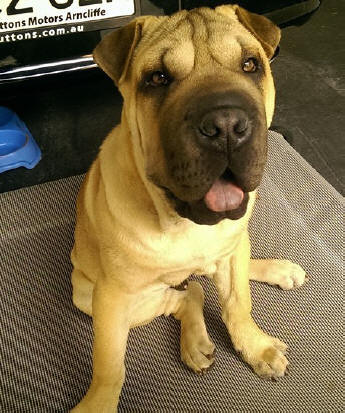 FATTY KHAN
Male Shar Pei X Mastiff
Aged approx. 18 months (born May 2015)
Large size
Fatty Khan has been with his family since he was 8 weeks old and got his name as he was chubby with 'rolls' as a puppy! He is a much loved member of the family but sadly is now looking for a new home as the daughter has developed a serious pet allergy. Fatty is a beautiful boy that is friendly, playful and good with other dogs so never barks at them aggressively. He is great around children (usually very gentle) and loves being around people so will lap up all the attention he gets but is not interested in cats and will just sniff them then walk away. Fatty has short bursts of high energy and is a bit goofy! When walking he will pull on the lead for the first 5-10 minutes in the excitement of getting out and about so will need to be walked by a strong person unless he is given more lead training. Fatty does however understand basic commands like stop, sit, stay and responds to your tone very well. He has a shedding coat and occasionally gets ear infections which are treated with tablets and drops from the vet but infections are not uncommon in the Shar Pei breed due to their narrower ear canals and skin rolls. Fatty is currently fed Black Hawk Large Breed dog food twice a day, is house trained with outdoor access and enjoys cuddles and racing around the off leash dog park. He isn't too fond of water but bath times are not too difficult if doggy treats are on hand!
Listed 3 October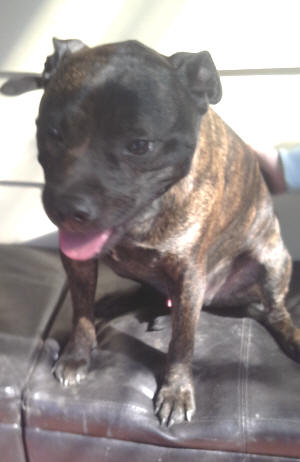 Male Purebred Staffordshire Bull Terrier (Staffy)
Aged approx. 3 years (born 15 October 2013)
Medium size
Seven is looking for a new home as he is currently living with an older and dominant female Jack Russell Terrier who does not get on with him. He eats anything and adults and kids love him as he is a 'sooky' dog but he is best suited to a home with older children. Seven is house trained if he can access outdoors and would like a yard he can run around in when outside but he is an indoor dog and will sleep on your bed if he's allowed to!
WITHDRAWN FROM ADOPTION
(OWNER NOW UNABLE TO BE CONTACTED)
Listed 26 August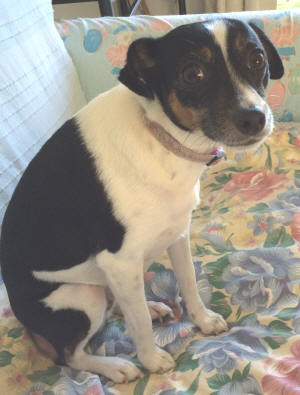 Female Purebred Tenterfield Terrier
Aged approx. 3 years (DOB 1 July 2013)
Toy size (when fully grown)
Pippi is a loving, energetic dog with a friendly nature that is looking for a new home as her mum is moving overseas. Pippi can get anxious and very excited at visitors but she loves going for walks and ignores the local cat. She can also be over exuberant with kids so is best suited to a home with older children and where she has a large garden or is on a property with room to run around. Pippi loves chicken, grated carrot, soft veggies and bones for chewing and is currently fed kibble rather than tinned food. She sleeps inside and is house trained but when adopted should be given access to outdoors until she becomes used to her new situation. Pippi will bring her kennel, pet carrier, two beds, lead. toys, bowl, bedding, food, brush, shampoo and doggy toothpaste to her new home.


WITHDRAWN FROM ADOPTION
Listed 30 August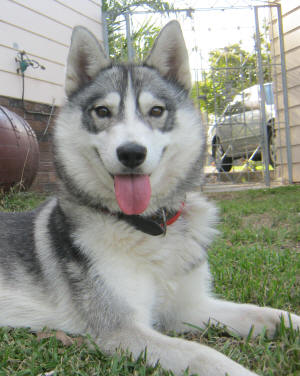 Female Purebred Siberian Husky
Aged approx. 4 years
Large size
Dakota is a friendly and lovable girl that is looking for a new home as her family are moving somewhere smaller and they feel it would be unfair to her as she is a young, active dog. Dakota was rescued from a home where she was regularly attacked by another dog and then became part of her rescuer's family when they fell in love with her. Dakota gets on well with other dogs her own size but has not spent time with the smaller breeds and has never lived with children. She sits and shakes hands and is good when she comes indoors. Dakota's first home was unfenced and she became used to roaming and seeking out human company while her owner was at work all day so she needs secure fencing. Dakota loves going on walks and would suit an active family who can give her regular exercise. She currently eats a mixture of Supercoat kibble and Pedigree canned food.

Listed 16 August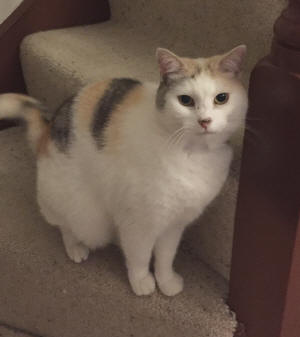 Female Tortoiseshell DSH Cat
Aged approx. 8 years
Short Hair

Fairy Cat is a beautiful quiet girl who want missing for over four years but was returned to her owner through her microchip only a year ago and no-one knows where she had been during that time. In the interim her family adopted another dog and cat but Fairy Cat is a feline that prefers the company of humans to other animals so is a bit stressed at having to share her home with this boisterous pair.. The situation will not improve as they are all now moving to a smaller unit so Fairy Cat will have less room where she can find a quiet spot to herself. She has recently had a vet check which included a geriatric blood test and her results were excellent. Fairy Cat would like a quiet home and can be rehomed with other gentle animals who will not jump all over her. She is ideally suited as a companion to an older person and is happy to either be alone or to just sit with you getting stroked.


Listed 12 July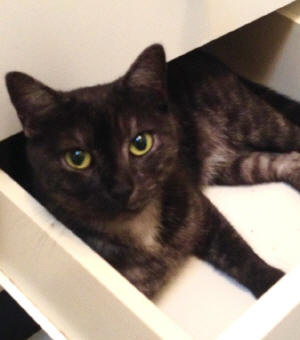 Female Dark Grey Tabby DSH Cat
Aged approx. 3 years
Short Hair

Lucy is looking for a new home as her family have moved into a unit and unfortunately the landlord will not allow cats. She is best suited to a mature household and would prefer to be the only pet. Lucy enjoys having human company around the house but is quite a timid cat that that prefers to be given time and come to you when she's ready, then she'll sit with you and watch TV or keep you company as you do the housework. Once she gets to know you then you may even find her sneaking in to sleep on your bed during the night!


Listed 12 July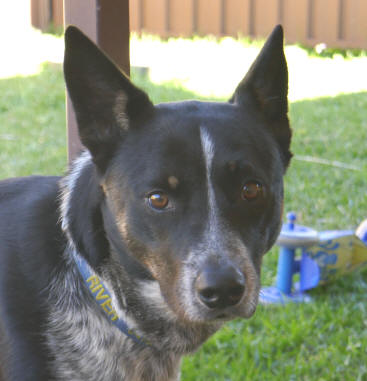 Male Cattle Dog X Kelpie
Aged approx. 2 years (born July 2014)
Large size

River was advertised on Facebook as a 4 month old puppy and, when collected, was chained to a tree and his food scattered all over the ground. He is looking for a new home suitable for a working breed as he is a bit too 'full on' for his current family and needs to be on a large property with the company of another active dog. River is a very playful boy that likes to do things his way .... he's highly energetic, loves to run and play and is always on the go! River spends most of his time outside in the yard so likes to go riding in the car. He is a strong dog that can be difficult to walk as he gets excited being out and about so reacts to loud noises or people, dogs etc. that pass by. River sleeps indoors at night in a crate as he tries to play with the resident cats and they don't respond well to his attention! He could bark if left outside but can 'hold on' for 6-8 hours without toileting when in his crate. River loves his doggy biscuits (chicken flavour is his favourite!) and eats Blackhawk, Pedigree, Purina One or Optimum dry food. He also loves Schmackos, chicken necks, steak, sausages and leftovers. He likes to chew on his lamb flavoured chew bone, Dentastix and a Kong filled with yummy treats of liver bites and peanut butter but when these aren't available has a tendency to find his own alternatives! River does not like water very much, hates garden hoses, sprinklers, lawn mowers and generally anything very, very loud. He will be rehomed with his harness, two loop leads and a bed (which he rarely uses as he prefers to sit on the grass in the sun). River is a loving dog and with the right home and owner who is experienced with working dog breeds he would make a great friend.

WITHDRAWN FROM ADOPTION
Listed 16 June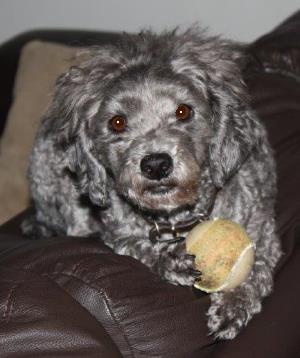 BRAVIE
Male Purebred Poodle
Aged approx. 13 years (born November 2002)
Toy size


Bravie is looking for a new home as his family has moved from a house into a unit and he is not happy! Bravie loves to have company and is now alone during the day as the humans aren't home and his doggy companion (mother) passed away so he cries from loneliness. Bravie is happy to lay around most of the day as long as he has company so is best suited to a home where someone is with him most of the time. He loves to sit next to you on the lounge and go on a daily walk but, due to his age, will let you know when he has had enough and wants to be picked up. Bravie eats most soft dog food and also Goodos. Since the death of his mother he has been sleeping next to his owner's bed on his rug. Bravie is house trained and generally good with most people but is not suited to a home with children. As he is old he does not like being handled roughly but loves being cuddled. Bravie has been going to Doggy Day Care and likes to play with other similar sized dogs but can bark and growl at them when on lead. Bravie has had regular vet care and recently had a full dental check up (with some teeth removed) and a full teeth clean. He is currently on a prescribed anti-depressant (Lovan) but hopefully this would no longer be required when a home where he will be happy again can be found. Dogs his size can live to 18 years or more so Bravie could have a lot of years left to both give and receive love!

Listed 5 June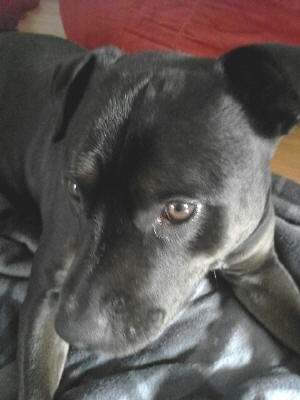 GEORGIA

Female Purebred English Staffy
Aged approx. 7 years (born 14 April 2009)
Large size


Georgia is a lovely girl that is looking for new home as her owner is moving into a unit. She has very good temperament, is good with kids and is a great family dog. Georgia is very loving and thrives on attention .... she will actually give you hugs! Georgia has never shown any signs of aggression ever and is quite protective of the granddaughter in the home. She is also good with other dogs once introduced but has never lived with cats. Georgia is house trained, loves to go for walks and is fed mainly raw meat (lamb, chicken and beef).

Listed 6 May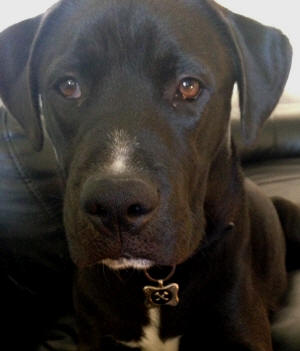 Male American Staffy X English Staffy
Aged approx. 2 years (born 14 August 2014)
Large size

Max is a very active dog that is looking for a new home as his owner is no longer able to exercise him due to an injury. He is a big boy that loves going on his daily walks or having a run around so needs space to do this in his new home. Max is very affectionate, loves dogs and cats (but does chase birds!) and has never shown any aggression towards people or other animals. He would benefit from some more lead training as he can get distracted but sits on command and will sit and stay at his food bowl until you give the order to eat. Max doesn't like being alone for long periods so would love to have a doggy pal in his new home but he has never lived with children. Max is house trained so is very suited to life as an indoor dog and is currently fed canned food and Supercoat kibble. He likes his chew toys, is not scared of thunder or lightning and loves water so bath times are exciting for him. His mum loves Max very much and wants to find him a home where this active boy will be walked everyday or ideally taken for a run as she can no longer meet his needs in this area.


UPDATE 6 JUNE: Max has now been surrendered and will be rehomed by Animal Welfare League NSW so please contact them if you are interested in adopting him.
WITHDRAWN FROM ADOPTION
Listed 21 May
Female Black and White DMH Cat

Aged approx. 4 years




Female Black and White DMH Cat

Aged approx. 5 years



Miss Kitty and Lily are looking for a new home as their mum is moving interstate to a unit which does not allow pets. They are both friendly cats, good with children and love attention and snuggling on your lap. As they are best friends ideally they will be adopted together. Miss Kitty is a very rough and tumble girl who has a lot of patience. She is a sweet girl with beautiful features and markings but definitely not shy and will be the boss of the house in no time!. Lily was adopted after being dumped while pregnant and is a very small, sweet girl that also has beautiful features and markings. She may be a little shy at first but once she gets to know you she won't leave you alone! Lily is also a really good dancer and will 'shimmy' against your hand when you pat her! Miss Kitty and Lily will be rehomed with their scratching post, food and flea treatments.


Listed 30 April
Male Pug X Jack Russell Terrier

Aged approx. 7 years (born June 2009)

Medium size






Male Purebred Jack Russell Terrier

Aged approx. 9 years (born March 2007)

Medium size






Meet Beannie and Rocky ..... best mates and happy, healthy, friendly dogs that are great with children so would be well suited to a family with kids but also to a couple or single person as they have lots of love to give. Their owners love them very much but due to a change in family circumstances they are no longer getting the attention they yearn for. Rocky is a long legged Jack Russell that, like most of his breed, is energetic and loves exercise. He's good with strangers and other dogs and loves scratches and cuddles. Beannie is good with people and house visitors and is an affectionate boy that loves sitting next to his owner wherever they are. Beannie enjoys the occasional walk and will follow Rocky to the end of the earth. Being half Pug he enjoys lots of naps and loves his food. They can be left at home for long hours, provided they get the love, attention and exercise they need when you walk through the door so would suit a working household. Equally they'd be very happy (especially Beannie) staying home with their owner all day but if they don't get the love and attention they need and regular exercise they are prone to escaping or getting nervous about passers by.

Listed 5 April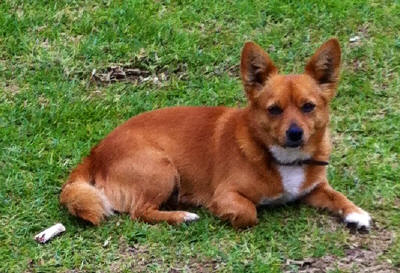 BILLIE

Female Pomeranian X Jack Russell Terrier
Aged approx. 6 years (born October 2010)
Small size


Billie is a beautiful, energetic, lovable, intelligent little dog whose elderly owner passed on a few years ago. She has lived with the family since then but they feel that Billie needs more love and attention to be happy than they can provide and would be ideal for a elderly couple with plenty of time to share with her. Billie is great with kids and all the grandchildren have been with her throughout her life to date and show her so much love but she is very timid and can be somewhat scared on hearing loud noises. Billie will fit into your life very easily if you show her the love and affection she is deprived of that at the moment so must go to a home that allows her to be an inside and outside dog. She is used to this and likes to sleep at the end of the bed with you so the people in her new home will hopefully love her enough to allow this to continue. Billie is only small and would be on the border of being a toy or small dog based on weight. She eats chicken necks, dog biscuits, poached chicken and red meat (but not overly fussed on the red meat!) and always has several bones on the go that she loves to chew on then hide around the garden. Billie is fully house trained using a doggy door, loves going on walks and won't run far from you when off lead. She isn't good with cats and a bit uncertain when on lead and around other dogs (especially those bigger than her) but fine when off lead. This is a hard decision for Billie's family to make but they want her to have a good life and feel that means being with someone else. They take her to the cemetery to visit grandad on a regular basis and she knows just where he is resting and goes and lays with him so it's obvious that she is a special little sweetie.
WITHDRAWN FROM ADOPTION
(OWNER NOW UNABLE TO BE CONTACTED)
Listed 23 April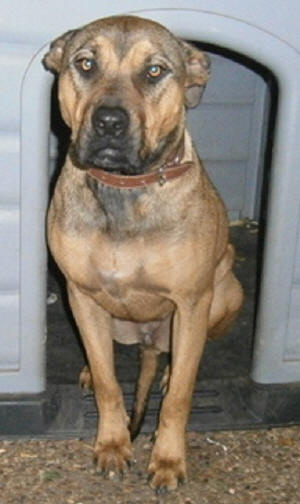 Female Staffy X Mastiff
Aged approx. 18 months (born 26 October 2014)
Large size

Saph is a very playful girl who is generally well behaved but full of energy as she is still a young dog. Sadly circumstances at home have changed and her mum is unable to give Saph the time she deserves so she is looking for a new family to love. Saph is house trained and used to being allowed indoors so would like that to continue in her new home. She has a good, happy nature although does get excited when meeting new people so is not suited to a home with young children due to her size. Although she has lived as the only dog in the home, Saph has had not shown any bad behaviour when meeting other dogs. Her new family will be given her kennel and any remaining food, wormers, flea prevention etc.) when she is rehomed.

Listed 20 April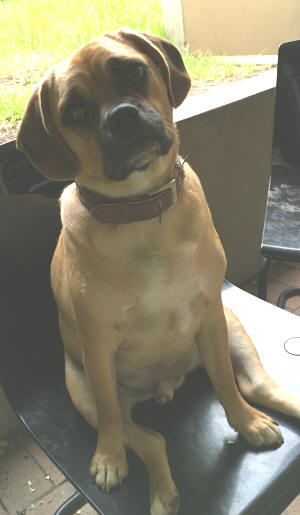 BRUCE
Male Pug X Beagle
Aged approx. 18 months (DOB 1 December 2014)
Medium size

Bruce is looking for a new home as a change in his dad's working arrangements means he is away from home for long periods of time. He loves him but wants to do the right thing by Bruce who deserves to be with someone that can give him more time and attention as Bruce loves the company of people and other dogs. He has a great personality and temperament but can be a bit stubborn so needs an experienced owner that is willing to put time in with him. He would be great with a family or couple who have another larger dog as he has a lot of energy and may be too 'full on' for smaller breeds. Bruce has never been aggressive with them but is just more interested in playing with dogs his size or larger. Bruce currently is fed mainly dry food but will eat anything and has a preference for vegetables, raw bones and pig ears. Bruce is a house dog that is house trained and used to sleeping in his dad's bedroom but he thinks he'll also be fine in his own bed in another room if necessary (although he may protest at first!).
UPDATE: Bruce's dad is finding the thought of rehoming him difficult now he has seen him up on the website so is taking some time out to make sure he is making the right decision.
WITHDRAWN FROM ADOPTION
Listed 5 April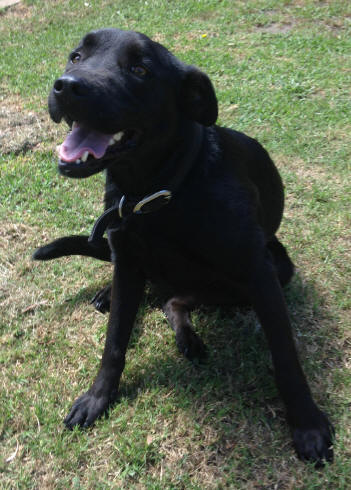 WILSON
Male Kelpie X Staffy
Aged approx. 4 years
Medium size
Wilson is looking for a new home as his family are moving into a unit. He is a very loving and even tempered dog that likes attention and has played with the family's grandchildren all his life so is used to kids. He has never toileted when inside the house and is not a fussy eater, enjoying biscuits and dog roll for his meals.
Listed 16 February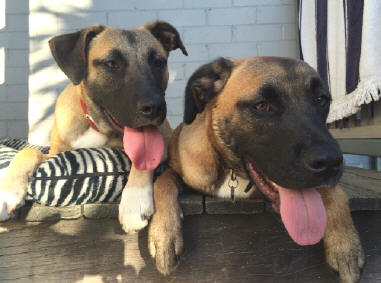 RANDALL AND LOTUS

Male and Female Labrador X Jack Russell Terrier
Both aged approx. 8 months (DOB 12 May 2015)
Medium size


Randall and Lotus are the best of friends and brother and sister from the same litter of puppies and, like all siblings, they like to rumble with one another but sadly need to find a family due to a marital break up. They both have good temperaments and want to be friends with everyone, even going back to play when a dog growls at them! Randall does like his cuddles whilst Lotus is a little more independent but still needs her cuddles. Lotus is the leader of the two and Randall will follow along where ever she goes. They are both house trained, live both inside and outside the house and always snuggle together when they when they go to sleep (see photos). Randall and Lotus are both food motivated and love to chew on a good bone. They also love to go for a swim at the beach and are becoming more and more confident each time they go. Their mum would really like them to be rehomed together as they have a beautiful bond and are such happy dogs. In fact, even when there are other dogs in the park they will always come back to play together! It truly breaks her heart to have to give them up and she hopes they will find another family that will love them just as much as she does. If you want a ready made family then Lotus and Randall are the dogs for you!
| | |
| --- | --- |
| | |

Listed 29 January