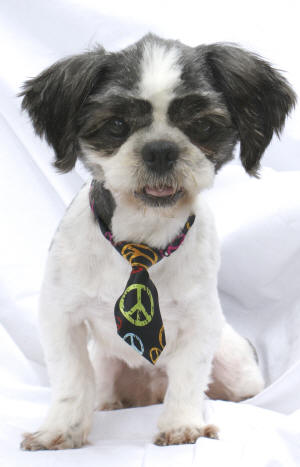 Male Shih Tzu X
Aged approx. 2 years
Small size


Denzel is a very sweet little Shih Tzu X that came into the Pound in pretty bad condition but was clipped off, bathed and has now had all of his routine vet work done and is in foster care with another of our little female rescue dogs. Denzel loves the company of the other dog and plays with her while his foster carer is at work. Denzel loves his toys, his doggy friend, his foster carer and going for walks. At night he curls up in his bed and sleeps with his foster doggy friend without making a sound. Denzel goes in and out of the doggy door to toilet or to lay in the sun in the garden during the day. He is going to visit ophthalmologist Dr Mark Billson next week as he probably requires surgery on his eye for a *dermoid. We are hopeful that once he has this surgery to correct the dermoid that he will go on to have a normal life. Denzel is a house dog so must have indoor access via a doggy door or similar and his coat will require regular grooming to keep him looking lovely.

*Corneal dermoids are one of the most common problems present from birth. They are abnormalities on the cornea (the transparent outer layer of the eyeball), conjunctiva (the whites of the eyes) and/or the eyelid and contain tissues not normally present on the eye surface. The displaced tissues have elements of normal skin, are pigmented and often have a tuft of hair growing from the outer surface. As well as hair follicles, there are usually also oil glands and sweat glands. The growth is usually obvious to see and may be considered unsightly, though it is seldom irritating. Due to its size and the presence of hairs, the dermoid is likely to interfere with the dog's vision and ability to close the eyelids. There may be some mucous discharge from the eye and spasm of the eyelid muscles. The dermoid may also appear as a lesion over the cornea, and the iris (the coloured part of the eye) might also appear cloudy. Other signs include trouble with blinking and abnormal overflow of tears.

UPDATED 19 FEBRUARY: Denzel went to visit Dr Mark Billson the ophthalmologist at SASH on Monday. When we arrived at SASH the Bondi Vet team greeted Denzel and asked if they could film his consultation and any surgery he may require so of course we agreed. Denzel was the perfect patient and sat very still while his eyes were poked, prodded, drops added and lights shone into his eyes. It was confirmed that Denzel does have a dermoid cyst on his right eye that must be removed and we have set a date for the surgery so have our fingers crossed that everything will go well for him. Bondi Vet does not pay for this surgery (which is quite expensive!) so donations to help Denzel would be very much appreciated.


THANK YOU TO THE FOLLOWING PEOPLE FOR THEIR KIND DONATION TOWARDS
THE COST OF DENZELS' SURGERY

Karen Hayne Jenny Leitch Annette Lowe

Jenny Robertson Annette Lowe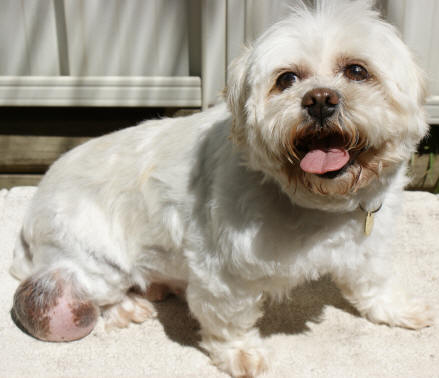 GEORGIE
Female Shih Tzu X Maltese
Aged approx. 6 years
Small size
Georgie's rescuer received a call from Blacktown Pound to say that there was a little female Shih Tzu X impounded with a large tumour on her back leg. The Pound staff were worried that Georgie might be at risk in the Pound so asked if PAWS would take her under duty of care. We agreed and now that Georgie has 'done her time' she can have surgery to remove the tumour. The vet does not believe that the tumour is cancerous but pathology will be done to ascertain exactly what sort it is. Georgie will also have a large umbilical hernia removed, be desexed and have a dental, x-rays and blood work to check that she is a healthy dog. We won't know until the surgery is done just how long it will take for Georgie to recover therefore she will not be available for adoption until such time as she is healthy and well. Georgie is in good hands with a wonderful foster carer who named her Georgie in honour of Prince George. She is a great little dog that deserves to find a wonderful home and we welcome donations towards the cost of Georgie's surgery.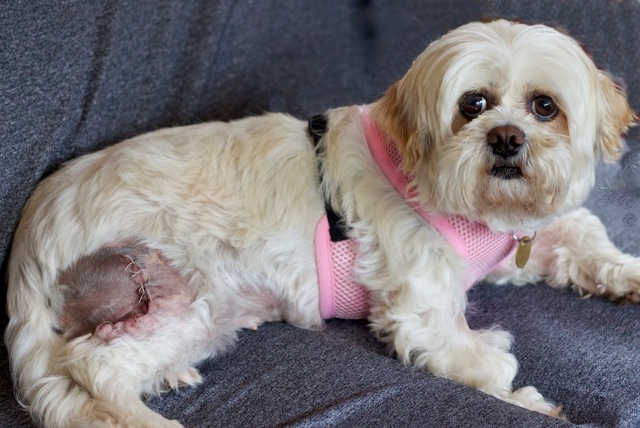 UPDATE 12 NOVEMBER: Early last Thursday morning Georgie and Denise made their way to the Bondi Veterinary Clinic for a consultation with Dr Chris Brown. The film crew from the television series Bondi Vet were there to film Georgie meeting Dr Chris and also the surgery that she had later that day. Georgie's journey will be on the next series of Bondi Vet in 2014 and we know that she will have a new home by the time the show goes to air so hope that her new family (who are yet to be found) will be happy to participate in the show when she says farewell to PAWS and begins her new life in her forever home. Georgie came to us from Blacktown Pound under duty of care about two weeks ago as she had a huge growth hanging from her back leg which, when removed, weighed 250 grams. She also had a very large hernia, an early mammary tumour, was undesexed and needed a dental. Dr Chris did the surgery to remove the leg growth, mammary tumour, hernia and also desexed Georgie. The surgery time was three hours and Georgie was a stoic little dog as she went through the surgery without as much as a whimper. The very next morning Denise went back to Bondi Vet to bring Georgie home and Dr Chris brought her out on a lead. She ran into the room to greet Denise with a big smile on her face then stayed on her lap, happy to be back with her foster mum. Georgie's lumps and bumps have been sent away for histopathology and we expect her to be given the 'all clear'. We won't know the results for a few days so it will be an anxious wait but we remain positive. Georgie is resting comfortably and on pain medication and antibiotics for another week so will go back to the the vet for her dental once she has fully recovered from this surgery. Georgie is a beautiful little dog, full of the joy of life and she will make a wonderful companion for a family who have another little dog. Georgie loves to be with her humans and would also like a little doggy friend to cuddle up and play with when she goes to her new home. No money is donated to PAWS by Bondi Vet and we pay for all surgeries ourselves.


UPDATE 15 NOVEMBER: Georgie's test results are back and we are pleased to say that her mammary tumour was benign and the large growth was just a lipoma, a benign tumour composed of adipose tissue (body fat) so she is a very lucky girl!



THANK YOU TO THE FOLLOWING PEOPLE FOR THEIR KIND DONATION TOWARDS GEORGIE'S SURGERY
Kirsty Field and friends Karen Hayne

Debbie Wilesmith (Just Like Home Pet Resort) Jenny Robertson

Rachel Sussman (in memory of Cindy, Snowy, Misty, Bonnie and Clyde)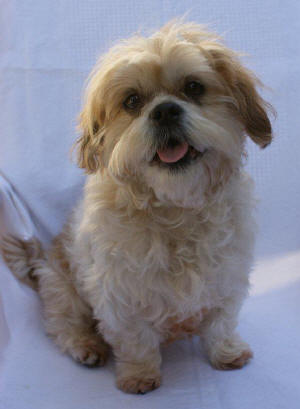 Male Shih Tzu X Maltese
Aged approx. 6 years
Small size

Gizmo is the cutest little boy on the planet.....just look at that face! When Gizmo came to
PAWS
he had a nasty ear infection but has now had surgery to widen his ear canals and is feeling 'spit spot' with no further problems envisaged. Gizmo came through the surgery like the real trooper he is and is now chomping at the bit to go to his new home.
Gizmo is an active little Shih Tzu who loves, loves, loves going on his daily walk, adores his humans and enjoys playtime with the dogs he is in foster care with. Gizmo would love a home with a family who like to get out and about to the local dog park or walks around their neighbourhood and, as Gizmo turns heads wherever he goes, they will be sure to get lots of compliments. He is a house dog that is house trained and he would love a doggy friend in his new home. Gizmo has a coat that will require regular grooming and clipping to keep him looking super handsome.

THANK YOU TO THE FOLLOWING PEOPLE FOR THEIR KIND DONATION TOWARDS GIZMO'S SURGERY
DOROTHY JOHNSTON ANNETTE CHRISTIE
ELLENA OF SYDNEY


Male Shih Tzu X
Aged approx. 9 years
Toy size

Little Jack has come a long way in the six weeks with his foster carer. He has been on medication, special treatments and diet all that time and also vet checks to ensure he is progressing well. Some of his bald patches have a little fuzz beginning to appear but he does have some way to go to recover enough to go to a new home. Little Jack cannot spend too much time outside for instance as he would be easily sunburnt so his foster carer keeps him out of the sun at present. Little Jack is an independent little dog who is quite smart and worked out the doggy door just by watching his foster carer's own dogs and remembered his housetraining right away so someone must have loved him once. Little Jack loves to play with toys and will throw them in the air ..., he's truly a delightful little dog with a big character. Little Jack is blind in one eye but it really doesn't hamper him in any way. He loves a big soft bed and will snooze for hours .... during the colder days he has cuddled up to a heat pack as he could not wear so much as a cotton vest without it making his bald patches very sore. Little Jack also likes a cuddle when he's in the mood and will snuggle his tiny little head into your neck. He also enjoys lying on your lap at times but he's not too needy and so quite content with his own company. Little Jack is great with other dogs although he doesn't interact if they try and initiate play with him. He would therefore be fine in a home on his own, providing he can get access to go in and out via a doggy door or open door as he loves to mooch round in the garden.

Male Maltese X Shih Tzu
Aged approx. 3 years
Small size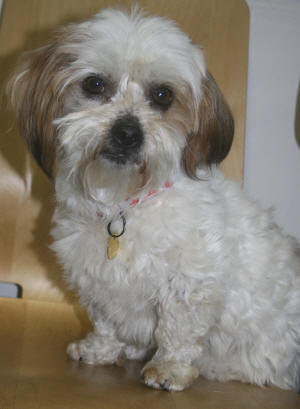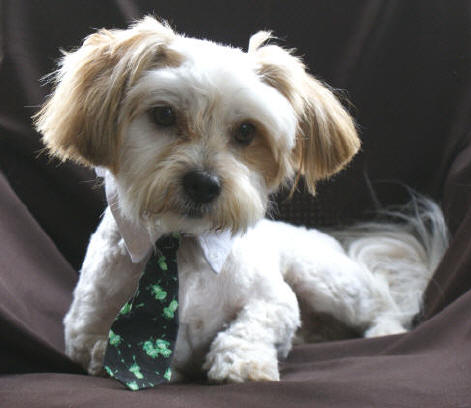 Andrew came into Hawkesbury Pound with a limp, cuts, grazes and bruises to his body and what was thought to be a bad attitude so the Pound made the decision that Andrew could only be released back to his owner. As the days went by his owner did not come for him and Andrew's future was looking very grim but then he rallied, his attitude improved towards the end of his impound period of 7 days and it was decided to release him to
PAWS
for rehoming. The minute Andrew was released he was taken to the vet for the usual surgery and also x-rays of his back legs and pelvic area as he was still limping and the vet was horrified at what she saw. Poor Andrew was found to be in agony with a smashed pelvis and had been sitting in the Pound with these horrific injuries so it is little wonder that he was withdrawn and cranky with the world. Andrew was given strong pain relief immediately and the vet contacted us to say that he would require specialist surgery to fix his pelvis.
Andrew has complete separation of both sacro-iliac joints, a fracture through the acetabulum on the left (with possibly some fragments) and a fracture through the ischiatic notch on the right. He is continent of both urine and faeces, is still able to walk and is otherwise a really nice little dog! Andrew is now at the Small Animal Specialist Hospital (SASH) at North Ryde and will have major surgery today to fix his pelvis. There will be an extensive rehabilitation period and once complete we will find Andrew a wonderful home.
Andrew's surgery will be done by Dr Andrew Marchevsky and w
e would like to thank SASH for their continued support of
PAWS
.
Despite his horrific ordeal Andrew is a real little trouper and w
e are confident that he will make a full recovery as he is in very capable hands.
The v
et has him on very strong pain relief and he is now wagging his tail, giving licks to all and his lovely nature is shining through.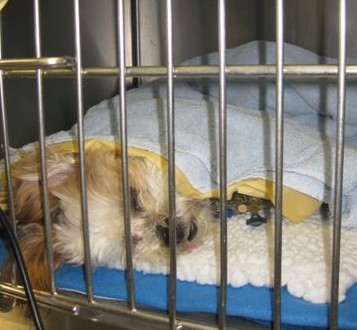 UPDATE 14 SEPTEMBER: Here is Andrew sleeping peacefully in his comfy cage at SASH after his big surgery today. Dr Andrew Marchevsky thinks that Andrew's injury was sustained about 14 days ago as there was a lot of scar tissue. He removed the femoral head from one leg, repaired the shattered bones and then put everything back into place. Dr Andrew said that our Andrew should make a full recovery and will be up and walking in 7 to 10 days. He may walk with a slight limp on one side but he will not be in any pain. It has been a huge day for our Andrew who will be kept quiet for a few days. We hope to have him home early next week and look forward to the next phase of his recovery. Andrew's specialist surgery has cost over $3500 so any donations would be appreciated!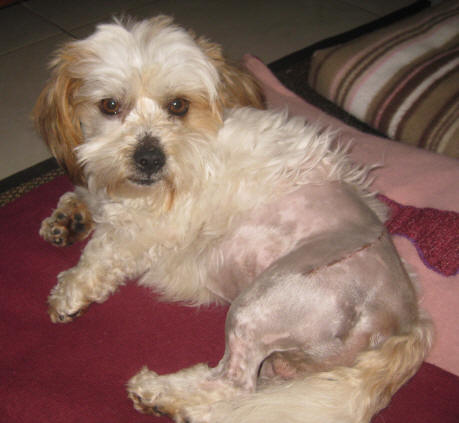 UPDATE 9 NOVEMBER: Andrew is now ready and waiting for his new home! Andrew came to us with a smashed pelvis which was repaired by a specialist and, after many weeks of rest and rehabilitation, he is now going on walks around the neighbourhood with one of his foster doggy companions. These walks are something Andrew loves as he goes along sniffing trees, lamp posts, plants and flowers. Andrew is not in pain nor does he have a limp and the vet has given him a clean bill of health so he should go on to have a wonderful and very normal life. The home most suitable for Andrew will be with another small, playful and friendly dog that he can play games or curl up with. Andrew loves tummy tickles and lots of cuddles and plays with his toys by throwing them in the air. He has just had a new hair cut that shows off his very cheeky grin! Andrew's foster family have become very fond of him but understand that it's time he has his very own family. His coat will grow back and require regular grooming and clipping to keep it tidy. Andrew is a house dog that is house trained and he must have indoor access via a doggy door or similar at all times.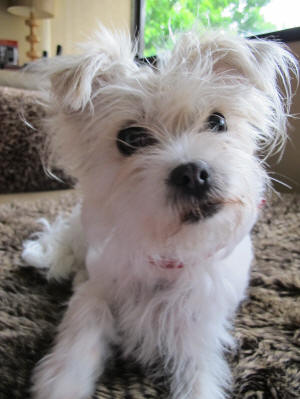 OLIVIA
Female Maltese X
A
ged approx. 2 years
Small size
Olivia came from the Pound with a serious heart condition but was lucky to have been rescued by
PAWS and had many angels watching over her. Olivia needed open heart surgery to correct her heart defect and this has now been done thanks to
SASH (Small Animal Specialist Hospital) and
the kindness of many people so that she can now go on to lead a normal life like any other dog. Olivia's new home will be as an only dog as she wants to be the 'one and only' getting all of the attention and will not share that attention with another dog. Olivia's new owners cannot be full time working people leaving her on her own all day as she will fret. The best home for Olivia will be with a family who have children over 6 years of age, a retired couple or single person. Olivia is a house dog that is house trained and she must always have access to the house via a doggy door or similar. Olivia has a coat that will require regular grooming and tidying up to keep her looking gorgeous. Olivia has so much love to give and should be ready for adoption in early 2012.

UPDATE 1 DECEMBER:
We are pleased to report that Olivia is now home, making good progress and recovering well from her surgery. Thanks to everyone who has enquired about Olivia and sent their good wishes for her recovery!
UPDATE 23 DECEMBER:
The latest wonderful news is that Olivia has been adopted by a retired couple from Kiama Downs. Terri and Sven adopted a
PAWS dog 8 years ago but sadly she has just passed away. Olivia's journey will be featured on the next series of Bondi Vet and everyone who made it possible for Olivia to have her surgery will be able to see this special little girl for themselves. Thanks again everyone of you for helping Olivia get the chance to have a lovely new life with Terri and Sven ....


THANK YOU TO THE FOLLOWING PEOPLE FOR THEIR KIND DONATIONS WHICH MADE IT POSSIBLE FOR OLIVIA TO HAVE HER OPEN HEART SURGERY ON WEDNESDAY 23 NOVEMBER 2011!

YASMIN TAMBIAH
LORETTA BOLZAN
JOSE ATALA
CANDACE MARZANO
LAURIE BRAND
ANNETTE CHRISTIE
ERIN MACGREGOR
JO-ANNE PLUG
ELAINE BARRETT
VERONICA BAKER
CHRISTINE DAVIS
SANDRA DAVIS
REBECCA TREVETHICK
NICOLE GRAY
EDITH KAYE FOSTER
AMY HEPBURN
SUSAN THILLAINATH
PRUE FILER
JENNIFER KENT
RUTH SAUNDERS
MELINDA BAKKER
SANDRA DE MAIO
BECKY TOWNSEND
JOANNA QUOK
GAB DENTON
ABIGAIL ZERN
WILMA HOBSON
JULIE-ANN RYPER

DR LISA CHIMES (SASH)
DR CHRIS BROWN (BONDI VET)
JANE (BONDI VET PRODUCER)
BONDI VET CAMERAMEN
AMY HEPBURN
JOHN HEPBURN
JULIE McLAUCHLAN
REBECCA TREVETHICK
KRISTY WALSH
ANGELA STUART
ANNE-MAREE SPARKMAN
NICOLE GRAY
LISA PEMBERTON-HOLDEN
JOHN MELLUISH
CONNIE NG
ANNA FARMER
SCOTT NICHOLS
ROBYNE TRACEY
ZOE THORSBY (on behalf of Carrick)
PERFORMANCE SPACE
VANESSA ACERO PERDOMO
KELSEY SMITH
SONIA MANCINI
ROISIN CAMERON
CHRISTINE HUMPHREY
DAVID COMER
BRANDY FERNANDEZ
BREE ROBERTSON

ALYSSA, EMILY, BEVAN, BELLE, HONEY, LOOLA AND BOO-BOO
ELLENA OF SYDNEY (TWO DONATIONS)

CORRILEE FOUNDATION

PET STOCK ANIMAL SUPPLIES